Posted By cmbuuck on January 27, 2012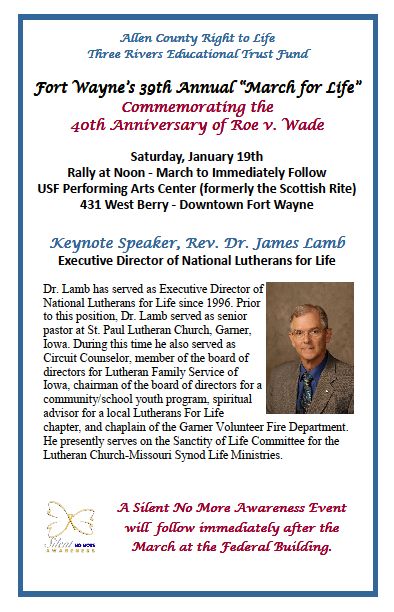 January 25, 2012
Pro-life activists take to National Mall for annual march
WASHINGTON TIMES — Some arrived with fellow parishioners, others with classmates or alongside family members, but the thousands of pro-life activists who rallied Monday on the National Mall to mark the 39th anniversary of Roe v. Wade all came to support the same goal: life… (more)
---
Obama defends Roe v. Wade as way for 'our daughters' to have same chance as sons to 'fulfill their dreams'
CNSNEWS.COM — President Barack Obama says the 39th anniversary of Roe v. Wade is the chance to recognize the "fundamental constitutional right" to abortion and to "continue our efforts to ensure that our daughters have the same rights, freedoms, and opportunities as our sons to fulfill their dreams"… (more)
---
Celebrates Roe vs. Wade Decision, 54 Million Abortions


President Barack Obama, today, release a statement celebrating the Roe vs. Wade Supreme Court decision that allowed for 54 million abortions. The decision, handed down on January 22, 1973, overturned pro-life laws offering protection for unborn children in most states across the country, and made abortions legal and virtually unlimited.
The statement Obama released says:
"As we mark the 39th anniversary of Roe v. Wade, we must remember that this Supreme Court decision not only protects a woman's health and reproductive freedom, but also affirms a broader principle: that government should not intrude on private family matters….
" http://www.lifenews.com/2012/01/22/obama-celebrates-roe-vs-wade-decision-54-million-abortions/
---
How to stop subsidizing abortion
JOSEPH FARAH — Yesterday marked the 39th anniversary of one of the darkest days in American history – – maybe the darkest. I can't think of another day in the history of this country in which the government, in this case, the Supreme Court, took an action that triggered the deaths of more than 40 million human beings, in this case, unborn babies, the most innocent lives of all… (more)
---
Those promoting ignorance are desperate
STAR PARKER — The U.S. 5th Circuit Court of Appeals in Texas gave good reason for celebration for the hundreds of thousands who will arrive in Washington Monday for the 39th annual March for Life… (more)