Posted By cmbuuck on September 26, 2010
If my people who are called by my name humble themselves, and pray and seek my face and turn from their wicked ways, then I will hear from heaven and will forgive their sin and heal their land.     2 Chronicles 7:14   ESV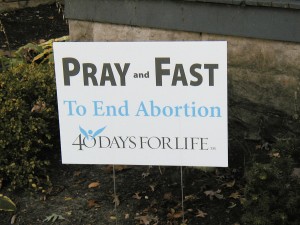 The 40 Days for Life campaigns of prayer and fasting began last week and will continue through October 31. There is record participation this year in many locations in the US, Canada, Australia, England, Northern Ireland and Denmark. Get Involved! For information on the vigil schedule and other ways you can help in this area, please check the following websites:
40 Days / Ft. Wayne at: www.40daysforlife.com/ftwayne/  or 
Allen County Right to Life at: www.ichooselife.org/
Hope to see you there . . .