Posted By cmbuuck on September 22, 2014
 Life Affirming News
Pro-Life or Life-Affirming?
Rev. Dr. James Lamb, Life Date, Summer 2014
The Gospel of Jesus Christ is the most life-affirming message in the universe! There is nothing "political" about the biblical truth that life is created and gifted by God from the moment of conception. There is nothing "controversial" about the biblical truth that God loves the life He created so much that in order to pay the price to buy humanity back from sin and death, He was conceived in a womb so that He could suffer, die, and rise again. And remember, He suffered and died for every human life no matter how small or condition of health. There is nothing "social" about the biblical truth that God desires to call every human being through the waters of Baptism into an eternal relationship with Him. There is nothing "divisive" about the biblical truth that we are compelled to share the life-affirming message of the Gospel and apply it to the matters of the heart the people in the pews at our churches struggle with in their lives (See my article on page 3.)
What all this means is that, as Chris­tians, we are not just pro-life because we live in a culture that isn't. We affirm life because we serve a God who does. Cer­tainly we want laws changed so that life is affirmed. We want life-affirming people representing us in government. But be­fore there can be meaningful changes in laws or people, hearts must change. That's what the Gospel does! That's what we have to share. That's why we affirm life!
What does that look like in a congre­gation? It means that instead of being "anti-abortion," we affirm the life of the unborn and speak up for them. It means that instead of just teaching our young people to abstain from sex until marriage, we affirm their lives and teach them about purity and making good choices that flow from the purity given them in Christ. It means we neither condemn the unmarried pregnant teen nor condone the sin. We affirm her life, the life of the father, and the life of their child and do everything we can to help them. It means we do not condemn the broken hearted who have sinned against life. Rather we affirm their lives and share God's means of grace and the love and forgiveness that flow through them richly and daily. It means we affirm the lives of the infirm and dying and point them to the meaning and purpose that God gives to life as long as He gives life.
Ben Carson: We Called Ancient Civilizations Heathens Because They Sacrificed Babies, But We Abort Them
by Steven Ertelt | Washington, DC | LifeNews.com | 8/6/14 4:24 PM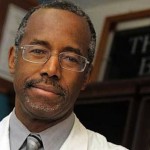 Dr. Ben Carson has a way of putting things in perspective that endears him to pro-life activists. The neurosurgeon and the author of six best-selling books makes another compelling point about the issue of abortion that is sure to have everyone who opposes abortion concurring.
He pointed out how ancient civilizations have been criticized for the brutal practices of human sacrifice and child sacrifice — but he wonders if modern society isn't "guilty of the same thing" because we have legalized abortion.
"Well, it's interesting that we sit around and call other ancient civilizations heathen because of human sacrifice, but aren't we actually guilty of the same thing?" said Dr. Carson in reference to a question about abortion. "The good thing is the American populace is moving closer and closer to understanding that abortion is murder. Every year we're getting better in that regard."
 To read more on this story go to:
http://www.lifenews.com/2014/08/06/ben-carson-we-called-ancient-civilizations-heathens-because-they-sacrificed-babies-but-we-abort-them/
NOTICE: New Location
Since the abortion clinic is not currently performing abortions, the 40 Days for Life observance will be praying across from the Planned Parenthood office at Parkwest on Jefferson Blvd. The site is the Pilgrim Holiness Church property at 1516 Ardmore Ave. (corner of Ardmore and W. Jefferson Blvd.) We will be there every day from September 24 to November 28, 8 am until 8 pm.