Posted By cmbuuck on September 15, 2015
Please Join Us

October 30-31, 2015
Lutherans for Life (LFL) National Conference
Petersburg, Kentucky
The Annual Lutherans for Life (LFL) conference will be held at the Creation Museum in Petersburg, Kentucky, on October 30-31, 2015
Theme of the conference is "Created-Redeemed-Called." Dr. Jim Lamb, LFL Executive Director, says our "theme focuses on the value God gives to human life. You cannot find three better words to encapsulate that value. Every human being is someone created by God, someone redeemed by Jesus, and someone God either has called or desires to call into an eternal relationship with Him. When you have the very power of the Triune God giving life value, nothing else really matters!"
"But now thus says the Lord, he who created you … 'Fear not, for I have redeemed you; I have called you by name, you are mine'" (Isaiah 43:1).
See www.lutheransforlife.org/conference/
If you are interested in riding a bus, the St. Michael Life Team and the LFL Fort Wayne Chapter are organizing motor coach transportation from Fort Wayne to this conference. The $88.50 per person motor coach cost is based on 24 minimum passengers. This price includes driver gratuities, continental breakfast, and transportation between the Creation Museum and the conference hotel. Registration for the motor coach is first come, first serve; deadline to register for the motor coach is September 15. If our minimum passenger number is not fulfilled, the fee will be refunded. For more information and to register for the motor coach, contact Dennis Brink at fw.lfl@att.net or 260-238-4046, or look under "Bus Transportation" on the above web page.
Please note: You are responsible for registering separately for the conference and hotel; cost of these are not included in the bus registration.
Registration Form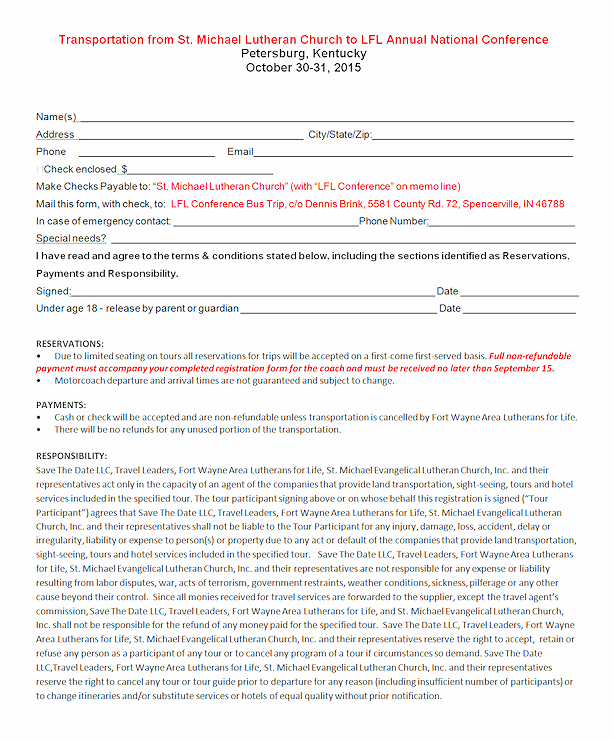 ITINERARY – Friday, October 30, 2015
6:00 AM – Coach arrives at St. Michael, 2131 Getz Rd.
6:15 AM – Depart St. Michael
10:00 AM – Arrive Creation Museum
10:00 AM – Conference check-in
10:00 AM to 4:00 PM – Creation Museum Tour
2:00 to 4:00 PM – Optional pre-conference seminars
4:45 PM – Hotel check-in (Cincinnati Airport Marriott)
5:00 to 9:00 PM – Opening Worship, Banquet, Keynote
ITINERARY – Saturday October 31, 2015
8:30 AM – Conference Begins
Noon – Lunch
12:30 to 3:00 PM – Creation Museum Tour
3:00 to 5:00 PM – Conference Continues
5:30 PM – Depart Conference
9:30 PM – Estimated Arrival St. Michael
* Dinner stop will be made enroute home. Expense is on your own.